How Do I Use InsightCM to Assess Risk to Operation?
InsightCM helps you analyze asset health and assess risk to operation. Asset health scores are a valuable input to maintenance activities that prevent failure—maximizing uptime and reliability.​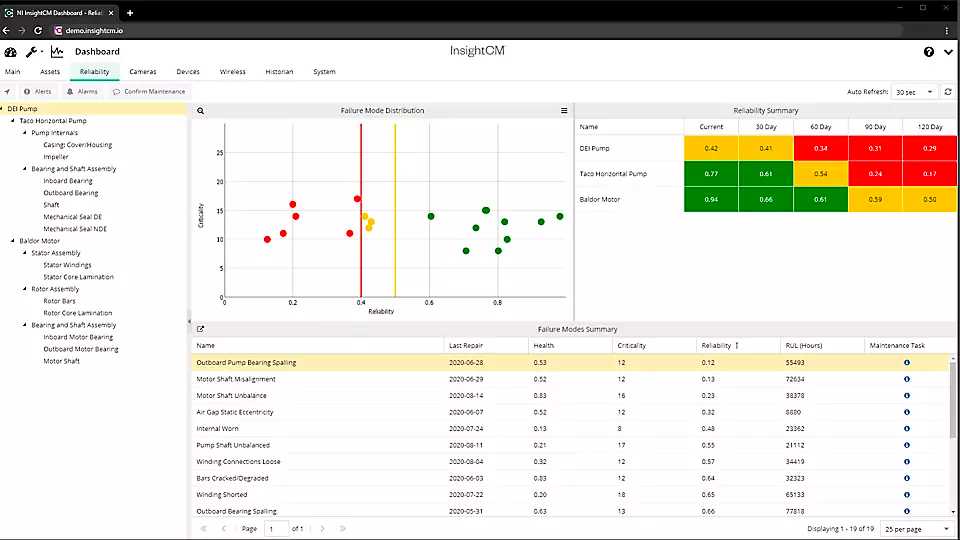 ​See What You Can Do with InsightCM
The analytics toolkit for InsightCM reports asset health score by asset and by failure mode component for up to 120 days in the future. Use asset health measures as inputs to planning and scheduling to mitigate the risk of downtime.
WAYS InsightCM CAN HELP
1
Instrument Your Motor-Driven Pumps
InsightCM has the hardware, software, and sensor recommendations needed to connect and digitize asset health measurement data.
2
Configure and Train Your Analytics
The analytics toolkit for InsightCM uses inputs from the nameplate, service manual, and past maintenance activities to begin assessing risk. The physics-based model (digital twin) and the automated ML training reduce the data and expertise needed to get useful results.
3
Quantify Asset Health
The analytics toolkit for InsightCM includes dashboards to view reliability scores, remaining useful life, and component-specific failure modes tied to maintenance tasks.