why monitor brushes?
The number one cause of ring fires is short brushes. The main objective of Brush Condition Monitoring (BCM) is to stop forced outages caused by short brushes. The system allows plants to better plan their maintenance schedules. Plants only pull brushes when needed. This enables a safer work environment, since personnel have less interaction with a highly reactive environment. BCM grants plants the ability to look at the condition of brush rigging remotely, sending brush analytics wirelessly to a remote controller.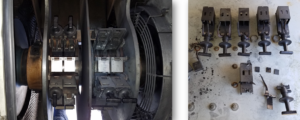 Real – World Example:
Catastrophic events, such as ring fires, can happen between regular periodic checks of the equipment. The image to the right shows what can happen when measurements are taken 24 hours apart. BCM would have given plant personnel advanced notice that the unit was failing, and could have alerted the plant, ultimately preventing an expensive forced outage.
installation process
Brush Condition Monitoring is a simple and minimally invasive installation, usually completed within one eight hour shift. Sensors fit easily inside EASYchange brush springs wirelessly talking to the monitors and plant personnel. If plants already own EASYchange holders, BCM installation is even easier and quicker.
historian
Data is available within the historian through PI, and within InsightCM. Plants choose how they want to be alerted and when. They can choose which analytics and alarm levels to use, and the data can be color coded for personnel to quickly look over. The power of the system lies within the ability to send real – time information to the historian so personnel can look at it remotely. This has been especially important in allowing those working from home to know the health of their generators.
customer testimonial
Joe Riebau, a Senior Engineering Manager with Exelon Power, has overseen the implementation of Brush Condition Monitoring at several Exelon Power sites and integrating their systems into their DCS.
What led to the decision to implement BCM at Exelon Power?
Within 30 months there were four brush rigging events at two Exelon sites. Each site had a water ingress issue causing damaged brushes, rigging, and collectors. We attempted to put a Band-Aid on the trouble spots using duct tape, but it wasn't successful. After one of the sites had a flashover event, we knew it was time for a change. That's when we implemented Cutsforth™ Brush Condition Monitoring.
How has your company integrated BCM in your DCS?
We have the system integrated into PI and DCS. We set up email alerts, and engineers can monitor and receive alerts from home using PI, which is especially helpful during Covid times.
What are your company's long – term plans to install BCM at additional sites?
We are looking to install BCM at additional sites. Monitoring gives plants the capability to detect potential failures, and decreases anxiety of brush rigging events.
financial impacts
Estimated Financial Assumptions: Cost of Ring Fire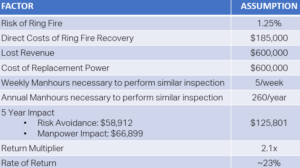 Estimated Return on Investment
Note: All numbers are estimates. The results are illustrative only. Specific risks, costs, and prices will vary. This is not a guarantee of savings nor a guarantee of eliminating risk. Proper maintenance must be performed
conclusion
Brush Condition Monitoring allows plants remote access to vital brush health information. This advanced detection allows plants to better schedule their maintenance and manpower hours, while decreasing maintenance costs.
For more information on Brush Condition Monitoring, click on the image below to view the webinar.